AIRPAC - Aviation Files
AIRPAC has been providing aviation mailing lists, research, and programming services to the aviation industry since 1981. We continually strive to provide the best information and services and improve our software.
Aviation Files
adds web access to AIRPAC data files using our free
iPhone App
, our
PlaneBase™ Software
, or direct download from the
Aviation Files Store
.
Our mailing lists include U.S. Aircraft Owners, Pilots, Aviation Businesses and Aviation Professionals. We add address standardization, bad address removal, and other data improvements to save you time and money.
Start Attracting New Customers

Direct Mail is still the best way to reach aviation buyers and AIRPAC has the best Aviation Mail Lists, Mailing List Services, and List Management Software in the industry! AIRPAC can help you select a targeted mail list or use our Plane CD™ and PlaneBase™ software to build your own. Addresses are standardized to provide better delivery and reduce your mailing costs by removing invalid, duplicate, undeliverable, and unnecessary addresses - you can lower your mailing costs by 9% or more!
We Build Your Mailing List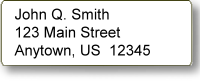 AIRPAC offers traditional Mailing List services - you tell us what list you want and we produce reports, mailing labels, postcards or CSV files. Call us today with your exact criteria and we'll provide a free quote.