Summary of Features
NOTE: The PlaneBase download only includes the software installation program and sample databases. You must still purchase either the AIRPAC Plane CD, a custom databases from AIRPAC, or purchase the download edition of the AIRPAC Plane CD.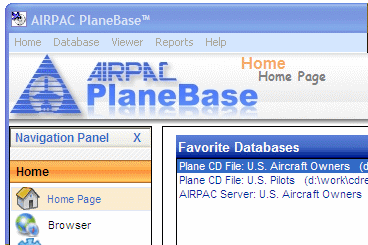 PlaneBase™ is a complete redesign and rewrite of our popular Plane CD™ database management software. In addition to an updated user interface, it adds many new features and capabilities.
Completely redesigned to work with Windows XP, Vista, Windows 7, and Windows 8 operating systems.


Uses traditional Windows Menu System or the more intuitive Navigation Panel to access all program features.


Easily customized "Favorite Databases" allows you to instantly access the databases you use most often.


"Recent Databases" list includes date and time and a quick double-quick reopen capability.


AIRPAC News keeps you Up-To-Date on sofware and database changes. Click to update news automatically over the internet.


Built-In Internet Browser for quick access to AIRPAC or other websites.


Works with Plane CD™ databases - just enter your exisiting Plane CD Serial Number under "Program Settings". Works directly from CD, or use the built-in Copy function to copy the Plane CD™ databases to your hard drive for faster access.


With the purchase of the Plane CD Download Edition, PlaneBase can download, unzip and install all Plane CD databases on your hard drive. Depending on your download speed, you can have full access to the Plane CD in as little as 30 minutes!


Direct AIRPAC Server Access. Direct Server Access retrieves data directly from our servers (internet access is required). You don't need to wait on the mail for your CD or download your databases. Just select the database from our server list and click open. We do all data updates automatically so you don't have to.


PlaneBase works with custom databases produced by AIRPAC. Now you can order exactly what you need and have all the capabilities to search, sort, and print listings, mailing labels and letters.


Custom databases can be downloaded from our website with a click of the button. PlaneBase includes a download wizard that will show you a list of your databases available. Highlight the one you want and click the "Download File" button. Your custom database is automaticlly downloaded, stored in your PlaneBase Database folder, and the file is opened.


We've improved on the Plane CD Searching and Sorting capabilities. We've retained the "Spreadsheet" like interface but added pop-up windows to enter search rules in a larger text box, plus lookup capabilities for models, cities, states, counties and many other fields. Now you can see and edit all your search rules on one window.


In addition to saving and loading search rules, we keep a list of recent search rules in case you forget to save one. And if you have trouble building a search rule, we can build it for you. Then click on the "Download" button and retrieve your search rule automatically from our server.


Our "Do Not Mail" indicators allow you to flag records addresses you do not want to mail to. Flag addresses for Undeliverable Mail, Addressee Requested, or Other. Matching addresses in other databases will automatically be flagged as well. Best of all, when you receive an updated database from AIRPAC, your Bad Addresses are automatically posted to the new database.


As with Plane CD, PlaneBase will print Mailing Labels, Listings and MailMerge Letters. Our MailMerge feature has been incorporated into the forms designer for easier layout design.


Our Statistical Reports allow you to easily determine breakdown reports for aircraft models, states, cities or any repeatable field.


Exporting is provided in case you need an ASCII file to send to your print shop or to export your selection for use with other mail merge products such as Microsoft Word, Excel, WordPerfect, and other programs.

Database Choices
The AIRPAC Plane CD™. All Plane CD databases can be used with Plane Base. In fact, we designed PlaneBase to access old Plane CD databases going back to 1996.
PlaneBase can access the Plane CD from your local CD or DVD drive or you can have PlaneBase download the current edition of the Plane CD from our server.
Click Here to learn more about the AIRPAC Plane CD™ databases. Click Here to view sample data and learn of the improvements we have made.
Custom Databases. All features of PlaneBase will work with custom databases you order from AIRPAC. This includes subsets of Aircraft Owners, Pilots, A&P Mechanics and others. An example of a subset custom database would be all Business Jet Owners in Texas.
PlaneBase can access custom databases that we email to you, or send on a CD or Floppy, or you can have PlaneBase download your custom list from our server.
Specialty Databases. Over the years, AIRPAC has developed software that allows us to produce lists of the most active aircraft owners and pilots. Some of these lists include:
New Aircraft Owners, selected models, monthly
Owners that changed address
Pilot address changes
New ATP Pilots, monthly
New Commercial Pilots, monthly
New Private Pilots, monthly
New CFI's, monthly
New Instrument Rated Pilots, monthly
PlaneBase can access specialty databases that we email to you, or send on a CD or Floppy, or you can have PlaneBase download your specialty list from our server.
Direct Server Access. Most of our customers can use PlaneBase to directly access the Plane CD™ databases on our server. Enter you search rule in PlaneBase, click Search, and your requirements are sent over the internet to our server database. Results appear on your screen nearly instantly - the response time is often times faster than accessing the Plane CD on you local CD/DVD drive.
Internet connection is required. Direct Server Access may not be compatible with all systems. Contact Us to learn more about Direct Server Access.
Searching & Sorting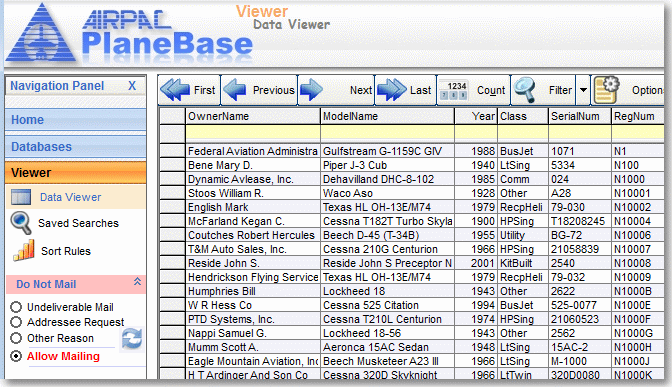 Searching a database can be very difficult and technical. PlaneBase makes searching easy to learn and use without sacrificing capabilities. For example, to look up an N-Number, click on the edit box under the "RegNum" column and begin typing. Your search begins when you hit the Return key.
Complicated searches are just as easy. For example, enter "Cessna" in the ModelName field and "ca;fl;tx" in the State field to locate all Cessna owners in California, Florida and Texas.
Saved Searches
After you have entered and verified a search, you may want to save it to use again later. You aren't saving the results, just the search rule. So when you update your database, your saved search rule will work with the new data.
Recent Filters
The last 15 searches you run are automatically saved in "Saved Searches->Recent Filters". If you forget to save a complex search, look it up under the Recent Filters and run it again. Then save it permantantly using "Saved Searches->Save This Filter".
Show All Search Rules
Using the "Filter->Show Filters" window, you can see all of your search rules at one time. This window includes a larger text box for data entry plus "Lookup" buttons the help with spelling of repeatable fields such as ModelName, City or State.
Download A Search Rule
If you're having trouble building a search rule, AIRPAC can build it for you. Then, click on "Saved Searches->Load Saved Filter->Download Filter from Server" to retrieve your filter from our web server. Note: Programming charges may apply for designing custom filters.
Reports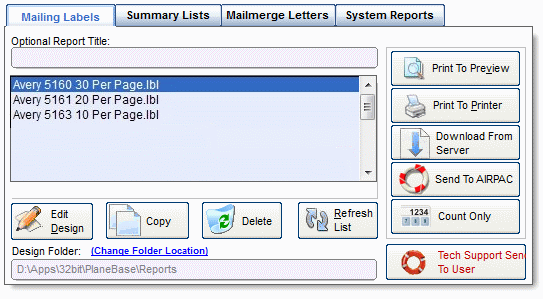 Predefined Formats

We include several mailing label formats and list formats that are ready to use. You can easily change fonts or reposition labels using the "Design" button.
Mailmerge Letters
Unlike Plane CD, PlaneBase uses the same designer as labels and lists. This allows you to easily design a blank form letter with your logo and address information. Then, click the Copy button to make a copy of the form letter, leaving your design intact for future use. The body of the letter includes basic formatting and mailmerge with many features defined under Microsofts RTF (Rich Text Format).
Print to Preview
This allows you to quickly see how your output will look without actually printing. You can print from the preview window either a single page or the entire report.
Counting Only
Because an accurate count of records can not be determined unless processed individually, we provide a "Count Only" button. When selected, PlaneBase will ask for your exclusion rules, then apply those rules to your data. Nothing will be printed, but you will receive a visual report of how many names were excluded due to bad addresses, duplicate addresses, and other exclusion rules you entered.
Excluding Unwanted Addresses
When you begin printing or counting, a separate window will appear that allows you to exclude duplicate and bad addresses from being printed. For example, you can exclude duplicate addresses, government owned aircraft, invalid addresses, addresses that you have flagged as "Do Not Mail", and more. If a record meets your exclusion rules, it will not be printed. Depending on a variety of factors, can save you 10% or more on your mailing costs.
Example: We ran a search of all light single engine owners in Pennsylvania - the total was 2,950. When we select a Print, Print Preview, or Count Only button, PlaneBase™ analyzed these 2,950 records and removed 634 addresses due to duplicates, bad address, etc. The result was a mailing list of 2,316 addresses. If we were sending postcards that cost $0.40 each including postage, we would reduce our mailing cost by $253.60!
Download Formatters From Server
If you need a custom formatter, AIRPAC can design mailing labels or reports to meet your specific needs. Once designed, you can download your custom formatter from our website using the "Download" button. Again, a wizard will step you through the process. Your new formatter will be placed in the correct folder on your computer and appear under the Label, List or Letters tab.
Windows System Requirements
AIRPAC Database. PlaneBase will only work with AIRPAC data. Software includes sample databases only. You must purchase databases separately from AIRPAC. See our PlaneCD Order page for more information.
User Account. Since PlaneBase works interactively with our servers, you must create a user account and login to download the software. Click here to create a new account.
Windows XP, Service Pack 2, Windows Vista, Windows 7, Windows 8
35 Mb disk space on your hard drive for PlaneBase software only (25 Mb additional space required for installer - can be removed after installation)
750 Mb disk space for Plane CD databases - only required if you elect to copy the CD to your hard drive. If you download the Plane CD™ from our server, approximately 1.1 Gb disk space may be required.
Internet connection required to download databases, search filters and reports from the AIRPAC Server.
Printer. Required to print any reports, mailing labels or mailmerge letters.
CD or DVD Drive. Required it you purchase the AIRPAC Plane CD, custom CD, or other AIRPAC DVD/CD. Not required if you plan to download databases from our web server.